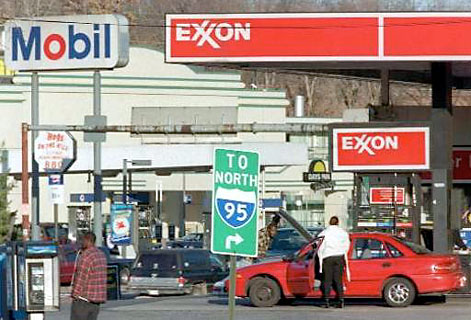 I read this article over at msnbc.com and I have to say I think this is good news.
Hawaii is taking an active stance in protecting the consumer. The frustrating thing about the article is that all of the experts seem to think this spells doom for the gasoline supply in Hawaii. That is stupid. People will continue to drive in Hawaii and if there is a gasoline shortage there it will be a purely fabricated action to oppose the gas cap. This is sort of the kind of thing FDR did with the utility companies in the New Deal. I think it's the government's job to tell companies what they can do and what they can't. It seems as though the mindset of the "experts" in this article is such that they feel we need to bow down to business if we want business to stay when it should be the other way around.
Business should be the ones bending over backwards for the right to serve a community. They should make the concessions, not the community. If I want to sell gas in Hawaii, then I have to follow the community standard of how to do it. Just because I'm going to make less of a gouging profit doesn't mean I'm not going to sell it there. And it's not like they need to market gasoline. It's one of those things people need and are going to get it at a local gas station. Period.
I think that is my point with this whole post. It is the responsibilty of local, state and federal governments to set standards that protect consumers. If a business doesn't want to conform to those standards then they shouldn't be in business anyway.
A lot of you might say it's not the governments business, hum-bug, if the government can't protect us from these pirates, who will? Free markets don't work. Look at trial lawyers. That's an unregulated free market and those ass-holes are out of control. They're starting to de-regulate the utility companies and that is what's causing all of these ridiculous energy crises. We need to regulate these corporate pirates and we need to do it now. Industry will adapt to the changes. If you think they won't adapt to make a profit you're crazy. Look at the automotive industry and safety standards. They didn't go bankrupt because of government regulation, people still buy cars.
We need to regulate businesses. Period. (thats in my humble opinion, anyway)