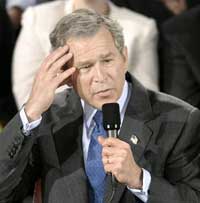 George Bush has outlined his latest plank of the Domestic Terror Agenda to a group of Wendy's (yes, that Wendy's) employees:
Private Health Security Accounts they can't possibly afford.
I think this idea is going to go down the same way the social security privitization plan went down. The more he stumps for it, the less popular it will become. I don't think he's got the hint that people generally don't like this private accounts idea, no matter what social program he attaches it to. Next thing you know, we're going to have Pell grants replaced with Private Teenager College Investment Accounts and we're going to have Food Stamps replaced with Private Nutritional Investment Accounts.
People need Health Care. Not this free-market, voodoo economics tax credit crap. If you want more people covered by Health Care, give them Health Care.
Here's a funny piece from
Jesus' General as well
.