Movie Reviews: Part One
I've been seriously lagging on my movie reviews lately. I don't know how many of you might have noticed or cared their absence but, in my defense, we've been a little busy. I'm sure you must have noticed that. So, I've got four movies here to review in "capsule form" and then later today I'll post more full reviews for Spider-Man 3 and Hot Fuzz.
Below, you'll find capsule reviews for two black and white pictures from a bygone era and reviews for two Woody Allen pictures I watched recently.
First up:
Carol Reed's The Fallen Idol
: The Fallen Idol marked the first collaboration between Carol Reed and the preeminent novelist Graham Greene. Based on a short story Greene wrote (it's very good, last year I read Greene's entire short story collection) the film revolves around the French Embassy in London. The Ambassador must leave for Paris and leaves his young (perhaps 8 years old) son in the care of Mr. and Mrs. Baines, the caretakers of the house. Baines and the Boy are good friends, perhaps best friends. Baines treats the boy like a much younger equal and the boy respects and admires him almost more than anyone else. Mrs. Baines, on the other hand, despises the boy and the feeling is mutual. Very quickly you get the idea that Baines doesn't much care for his wife either. The story starts when the Boy sees Baines leaving the embassy and sneaks out to follow him. He catches Baines with his mistress in a coffee shop. The mistress was breaking it off when the Boy found them and transformed their scene into something truly amazing to watch. They were trying so hard to deal with these complicated issues with the boy sitting right there and watching them dance around was masterful. Long story short, the Boy gets involved in lies and secrets on both sides of the Baines' and things quickly turn to what very much seems like the murder of Mrs. Baines after the discovery of Baines and his mistress in bed together.
This film is quite enjoyable and tense. I didn't realize it until afterwards that it was so tense that I had bitten all of my fingernails down to their nubs. It has great moments of levity and tension and makes me want to see Greene and Reed's final collaboration that much more. (The Third Man was their second collaboration and quite possibly is one of my favorite films. Their final collaboration was Our Man in Havana which is a wonderful novel. The film stars Alec Guinness, a favorite of mine for obvious and not-so-obvious reasons, and is, sadly, unavailable in the United States. My only hope is that Criterion reads this and understands they have to get on this ASAP.
Next: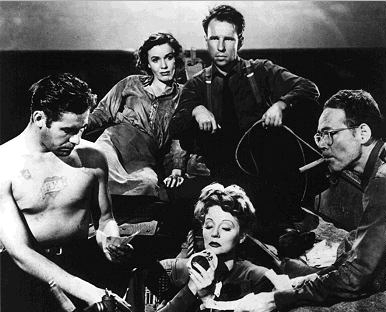 Alfred Hitchcock's Lifeboat by John Steinbeck
: Wow. I had always sort of avoided Lifeboat, it seemed like it would be fairly standard fare. It was shot early in Hitch's career and it all happened on one lifeboat. Upon further examination, I learned that Steinbeck had written the story and that intrigued me. And then instead of just a number of survivors on a lifeboat, the story revolves around a number of survivors who fish from the sea the captain of the German U-Boat that sunk their ship and killed all of their fellow travelers. The film is tense and truly has moments of horror. Not moments that they show, but moments that are insinuated. My particular favorite was when one of the crewmen who had been hit by a piece of shrapnel learned that he had developed gangrene and would have to lose his leg. The only person competent enough to perform the operation is the German, who everyone distrusts. The moment of horror comes in when you realize that he has to perform the surgery on this rocking boat with a four-inch pocket blade. The movie never, ever seemed boring, standard or cliched.
Also, Tallulah Bankhead was a treat to watch. Hume Cronyn was, too. And Hitchcock's cameo was bloody genius.
This actually ranks up there among Hitchcock films that I'll watch and rewatch and start showing my kids as soon as they become teenagers (or possibly pre-teens).
Which brings us to:

Woody Allen's A Midsummer's Night Sex Comedy
: This film was really, really good. It had perhaps few of the best moments in Woody Allen films I've seen. The film is a convoluted and complicated love story involving three different couples in the early 1900's summering at Woody Allen's house in the country. I think the best part of this film, aside from Mia Farrow and Woody Allen, was Tony Roberts. I really wish he'd had a chance to be in more Woody Allen pictures. His bit parts in Annie Hall, Hannah and Her Sisters and Stardust Memories have always slay me and this is the only film of Allen's that I've actually seen Tony Roberts in a lead role. He's the perfect foil to Woody Allen's neurotic characters. He has this amazing way of seeming both more and less neurotic than Woody. And the film hearkens back to a slightly more modern version of the Elizabthen sorts of sex comedies like (obviously) Shakespeare's Midsummers Night Dream and more recent works of legitimate literary romantic sex comedy like Pride and Prejudice.
And the film is rated PG, so it's perfect to watch with your friends who are squeamish about ratings. Also your kids. I'd watch it with a 12 or 13 year old without worrying about content. Well, maybe a little bit.. But long story short, it's a good movie and you should check it out.
And finally we come to:
Woody Allen's Zelig
: I had no idea what to expect with this film. It was made in 1983 and I assumed that the early 80's was when Woody Allen generally ditched the straight slapstick of his pre-Annie Hall films. And this film was quite slapstick, but the structure and assembly of the film nothing short of spectacular. The film runs like a talking-heads-style PBS documentary about a man with a very serious neurological affliction. He's a human chameleon who is able to change his shape, accent and color in the presence of someone else, so strong is his desire to fit in. Around black people he turns into a black man, next to two obese men he becomes obese, a Scottish bagpipe player puts him in a kilt, etc... Mia Farrow plays the psychologist trying to cure him. The film is silly and fun, but Allen's command of the documentary medium is such that it truly blows my mind and makes this film worth watching. You can learn a lot from Woody Allen. I know I have.
So, I suppose to sum up, these were four excellent movies that I would recommend highly to all of you (you proud few) that read this.