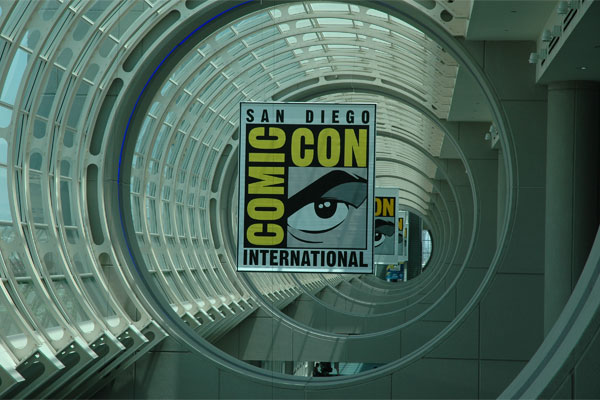 I was going to write this in-depth Comic-Con report and report on everything I'd seen but the biggest thing I saw there was the crowd.
And everyone and their cousin posted everything I saw in either blog format or on youtube. Even the coolest thing I saw there is on youtube. (
Right here to be exact
.)
I went and saw all the stuff you'd expect me to. The Paramount panel (where the Indiana Jones video was presented and they talked about Beowulf (looks cool), Stardust
(read my review here)
, Star Trek (can't bloody wait), 1-18-08 (again, can't bloody wait), Hot Rod (stick to The 'Bu and digital shorts guys) and the Spiderwick Chronicles (Phil Tippet was there and that's just cool))
I went to the 300 (man that movie gets waaaay more credit than I think it deserves, read my review here) and Blade Runner panels. Ridley Scott is waaaaay too cool to be at Comic-Con fielding questions from posers in the audience. The man has been knighted for Chrissakes....
I saw the Shoot 'Em Up panel that Clive Owen did. He's cool but the movie seems decidedly not cool. Joel will love it though. It looked liked the silliest, most preposterous action movie I've ever seen.
I did Steve Sansweet's yearly Star Wars commercial and it revved me up like always.
I went to the Futurama panel (by far and away the best news all con: new Futurama in my hands by November.)
But the Con has officially out-grown San Diego. I would have gone to more panels, but I spent a shitload of time in traffic because that part of the city can't handle the amount of people the Con attracts. The exhibition hall was so busy I think I spent more time drinking and chatting with Neal from
leftwich
than on the floor.
Derek
got to show some cool stuff that I had a small part in, though. The response to Gamma Rae has been extremely good. And the four pages of Teen Titans that I wrote for him to draw look amazing and I will post them to the
short story blog
as soon as they get lettered. (
here's a taste of page four.
) I've been told the response to those pages was excellent as well.
I also found a guy who used to come to my comic book store doing some great animation work.
Here's a link to his blog.
Check it out, it's really cool stuff.
I also bought waaaaay more comics than I needed to.
So, if there is anything specific you want to know about Comic-Con, ask me in the comments, otherwise I'll assume you've read everything I've got to say elsewhere.
I will post pictures soon. My brother (remember, the funny one?) took pictures of stars no one was paying attention to and fans in horrible costumes to entertain himself. They are great fun.
I should also be back tomorrow with reviews of Sunshine and Hardcore and maybe some news and stuff. And maybe that book report about Harry Potter. Check back soon.